Knowledge Transfer
In December 2022, Dr. Giorgia Angeloni successfully held an online workshop: Impact of ASF in rural communities and smallholders, funded by her Integrated Knowledge Transfer (iKT) Award.
The awards form part of the iKT plan, a key part of DEFEND, focused on guaranteeing impact by ensuring the knowledge gained during the project is shared and utilised to its fullest extent.
Consortium partners were invited to apply for the awards with applications focusing on one or more of the following criteria;
     Ensuring relevance of the DEFEND research
     Facilitating the use of DEFEND knowledge
     Assessing barriers to using DEFEND knowledge
     Monitoring DEFEND knowledge use
The online webinar allowed for a discussion between different realities and countries affected by ASF. It focused on the impact on smallholders and rural communities and the preservation of local breeds, such as the Bazna pig and the East Balkan pig. The speakers presented the situation in Italy, Romania, Bulgaria, Cambodia, and Laos, highlighting how the spread of ASF has been managed in different contexts, and the related consequences.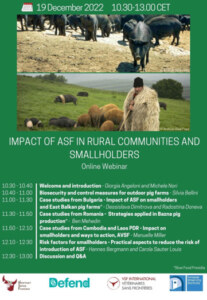 The webinar has been a good chance to take stock of the ASF situation from different points of view. The comparison between different countries (both in Europe and out of Europe) has allowed the spreading of information on ASF impact, raising awareness on emarginated realities. Autochthonous pig breeds, backyard pig farms and food traditions related to the rural population are at risk of extinction. Considering how biodiversity and sustainable farming are fundamental and sensitive topics, the webinar helped create a net between far but similar realities.
The webinar has opened a dialogue on the topic thanks to the connections created. It will give a chance to hold further events finding a way to act properly to protect biodiversity and smallholders also during emergencies.